Why is it Necessary to have VPN for Usenet?
Downloading files via Usenet can land you in trouble especially with increased copyright trolling on the Internet. So, for users who are heavily into binary files downloading via Usenet, it would be ideal for them to stay anonymous for various reasons.
VPN for Usenet
Some of the reasons for using VPN for Usenet are: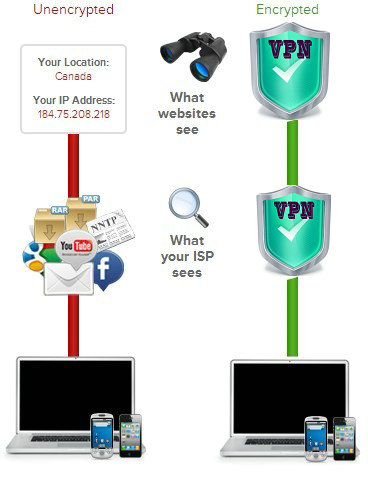 >>  Increased download of copyright materials from the Internet is a big concern as government authorities and ISPs are monitoring all the online activities and information.
>>  If your ISP provider who is offering Usenet and view it as low priority then the provider can slow down the access of Usenet, which is also termed as bandwidth shaping. Most of the ISPs give low priority to Usenet traffic, so they will still slow down your Usenet usage, if they come to know your online activities.
>>  Using VPN with Usenet safeguards from legal protection. For instance, if you are downloading chunks of file from a newsgroup, it might happen that you download accidentally copyright materials. This can happen with some misplaced clicks, so it is always better to restrict your ISP from getting all the online information.
Recommendations regarding VPN and Usenet usage
There are certain recommendations that are ideal for Usenet users and how to stay safe and anonymous online.
>>  It is always recommended that users of Usenet with VPN enable the SSL connection when connecting to the service provider. This will mask all downloads and uploads from online traffic regulators and authorities and also it will not slowdown the Usenet traffic. In order to enable SSL connection on your Usenet, users require a newsreader that assists SSL. However, it is hard to find out SSL security in the newsreaders as this is a default setting.
>>  Using tunneling software also secures connections on Usenet. Certain newsreaders have tunneling and acceleration software application available and users can take advantage of these applications. These applications are not easy to set, but extremely beneficial as these provide compression that speeds up messages and download rates in Usenet significantly.
>>  VPN connection with Usenet can be used along with tunneling and SSL. The VPN or Virtual Private Network encrypts the connection between the server and the computer. For instance, users of VPN with Usenet can utilize the platform to watch shows of North America from any part of the world via VPN service based in North America.
Top VPN for Usenet
1
Hidemyass
Cost $11.52/month || 30 Days Money Back
2
ExpressVPN
Cost $12.95/month || 30 Days Money Back
3
IPVanish
Cost $10.00/month || 7 Days Money Back
4
StrongVPN
Cost $21/ 3 months || 7 Days Money Back
5
VyprVPN
Cost $9.95/month || 7 Days Money Back
Therefore, VPN for Usenet can be extremely effective and provides secure connection that can allow users to download files without getting noticed by online authorities.