Find Best VPN for Roku and Step Roku-Box with VPN
Roku is a device having no inbuilt VPN client. Roku is a streaming player allowing you to access channels US based on demand such as ABC, NBC, Pandora, Hulu, Netflix and Amazon Instant. You can connect VPN or SmartDNS For Roku using Wi-Fi connection by connecting a VPN router.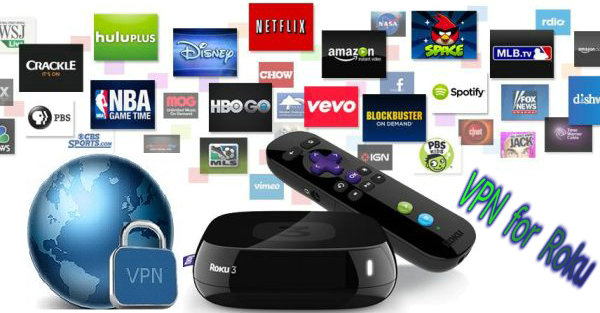 It is a big difficult for people having scarce technical knowledge to carry out this job. However, once you connect, you can access all channels outside the USA from anywhere. Conversely to make it work for you, you need to understand few important points.
The first step you need to find a VPN service for your Roku,the VPN service provide fast server to enjoy fast streaming on the Roku and anonymous surfing on your iphone or PC simultaneously. Here we add 5 VPN providers for you, all the service we're used and tested for Roku.
Top 5 VPN Service For Roku Box – Best Roku VPN
1
ExpressVPN
Cost $12.95/month || 30 Days Money Back
2
Pure VPN
Cost $9.95/month || 7 Days Money Back
3
Hidemyass
Cost $11.52/month || 30 Days Money Back
4
PIA VPN
Cost $6.95/month ||  7 day money back guarantee
5
IPVanish
Cost $10.00/month || 7 Days Money Back
How to Set up VPN Server FOR Your Roku Box
There are two major steps in this process.
1.Configure the Router with VPN
2.Connect Router with Roku
Get Roku-Box with VPN
Router Configuration: If you have VPN enabled router, you may follow this guide
Once configured successfully, you can connect the VPN-enabled router to Roku-box.
Configure and connect to VPN server (U.S. based).
Set local time on the Roku-box, router and involve time zone devices of VPN server.
Connect Roku-box to VPN configured router.
Configure Router
The foremost thing that you need to do is to sign for a VPN for Roku so that you enjoy an extraordinary speed of streaming as ExpressVPN or PureVPN. Get subscription of VPN service and configure using Wi-Fi services using a Router. The process of configuration is possible with VPN using different routers namely:
DDWRT with OpenVPN
TP-Link with PPTP
Asus Router with PPTP
D-Link with PPTP
Tomato Router with PPTP
Belkin Router with PPTP
Once you configure the router with VPN Server, just go ahead to the next step.
Connect Router
Connect router with Roku Box following these steps:
Restart the Router and connect to VPN
Visit the Roku link and choose your country residing (as USA)
Zip codes of the US come with 5 digits and you may relate it with credit card and compose a 5 digit zip code from your zip code. For instance, if your zip code is 1911 then the new zip code US is 01911.
On the Roku, perform a factory reset. Go to Home screen, select settings, press up, choose factory reset and choose yes. With this, your Roku gets reset to the factory settings.
Set your Roku again and reconnect it to network using Router
Connect on the VPN for Roku to Netflix and enjoy watching unlimited TV shows, new and old movies, TV seasons and lots more on Netflix.
Now, you have the simplest way to enjoy the US contents and this is possible on connecting VPN for Roku. Having VPN router and Roku is simple to set up and you also have all the opportunities to watch your favorite contents with all the comfort, quality and ease, even outside the US. Just enjoy this feature of streaming your router and enjoy the facilities and features of VPN for Roku.
Voila! It is time to stream your favorite services, use your Roku-Box to your TV and watch contents of your choice!