How To Use Vpn For Kindle – Some Steps To Remember
The new Kindle product line offers a wonderful set of devices that does not only provide non-stop and wholesome entertainment, but also allows the use of VPN to so that users can get their work done safely with their hand held tablets. It allows people to share files through a secure wi-fi and VPN permission across different computers and tablets.
Limitations in the Kindle product line
Kindle was originally created so that Amazon product users could use their videos, e-books, etc with renewed ease. However, this has given rise to a few limitations. Firstly, much of the content is geo-referenced and hence blocked, for a variety of users not living within a particular region. For this purpose smart VPN becomes important. From many of the Kindle models, VPN connection app that gives users' free access to PPTP and L2TP VPN has been removed. In order to unblock these geo-coded sites and have a greater access to Amazon content itself, using VPN services is a must.
Top 5 VPN Service For Kindle – Best Kindle VPN 2014
1
ExpressVPN
Cost $12.95/month || 30 Days Money Back
2
Hidemyass
Cost $11.52/month || 30 Days Money Back
3
IPVanish
Cost $10.00/month || 7 Days Money Back
4
VyprVPN
Cost $9.95/month || 7 Days Money Back
5
Kepard
Cost $7.00/month ||  Free 30 minutes per day
Setting up a VPN service for your Kindle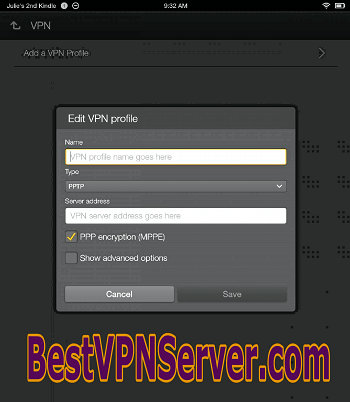 Connecting flash routers that can be easily purchased online is one way of going about things. Flashed routers have been pre-configured to accept VPN connection settings and hence this is a fuss-free way to make use of the Kindle service content without getting blocked in different countries.
Side loading VPN apps is another option, though it might be a violation of Amazon regulations. Side loading like normal Android services not only allows you to use VPN apps but a variety of other Android apps .
The third option is to root your device, though it is commonly agreed that it should be a last resort of sorts because it compels you to give up your warranty. Rooting enables a person to make better use of their Android device which and allows you to eliminate the existing Android version and install more user friendly versions like IceCream Sandwich will enable you to use VPN connections more easily.
Some pointers to be kept in mind
Setting up VPN on your Kindle is not a difficult task but in many cases Amazon might not agree with your setting up of VPN on the device since the app was removed very recently. You might be party to policy infringements and warranty invalidation, however, using the right techniques and VPN setting mechanisms which are customized to meet your needs; it might be worth the task.
Conclusion
The latest versions of Kindle like the Kindle Fire HDX has been configured to make use of VPN connections and you can easily choose a service provider and safely hare all your files online. However, for Kindle users who still cannot access VPN using the formal channels, the mechanisms mentioned above might just come in handy. For business folks and entertainment junkies both, vpn for Kindle is a necessity. Using VPN, now you can have access to a wider range of content from a variety of different regions with minimum restrictions on your Kindle device.