GoTrusted VPN Review
GoTrusted Established in 2005, GoTrusted was one of the first personal VPN services offered to the general public.  It was founded by former executives from Symantec Corporation, a company specializing in network security and most known for their Norton suite of antivirus and firewall software.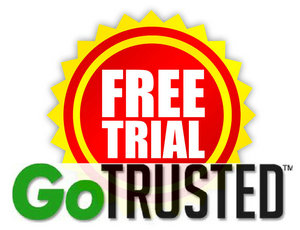 GoTrusted is headquartered in central Florida, USA.  David Lonardo, president, stated "GoTrusted was started primarily because public Wi-Fi created serious vulnerabilities for people that connected in airports, cafes, libraries, etc.  At the time, VPN technology was typically only usable by businesses as there were few simple technologies that the average personal computer user could deploy quickly and easily at any location.  GoTrusted simplified the complexities of using VPN so that anyone that could click a button could secure their systems anywhere they connected to the Internet with the strength and compatibility that SSL type VPNs allowed."  Continued Lonardo, "Of course, VPN has many other uses such as freeing up access to Internet where it's blocked, viewing home country web content, and all the security that comes with having your computer firewalled and data encrypted when a VPN is connected."
VPN Protocols Used
GoTrusted's network allows connecting with the following VPN methods:  OpenVPN SSL, SURE SSL (GoTrusted's own patented SSL VPN which stands for Secure User Routable Encryption), PPTP and L2TP/IPsec.  One a computer, the GoTrusted Secure Tunnel application takes care of the connecting duties.  The application is designed to select the best VPN method based upon your ISP and network conditions upon connecting – it's all very 'black-box' in use with just a single button to connect and no configuration files or settings required.  The PPTP and L2TP methods are used for Apple iPhone/iPads and Android phones/tablets.
The SSL type VPNs are usually the best choice for VPN connections.  The older PPTP/L2TP/IPsec VPNs protocols are more easily blocked in countries that filter the Internet or may have problems with certain routers at hotels or on public Wi-Fi.
Network Servers
GoTrusted's network is a typical shared IP VPN network where multiple users connect through single IPs over the network.  The network automatically adjusts load so the IP you receive in a specific region is based upon their server load at the time you connect.  The company indicated that there are software features to make an IP 'static' (so it doesn't change between connections) at no extra charge.  They also offer 'dedicated' IPs, that are not shared by other customers, to businesses and individuals for an additional monthly fee.
GoTrusted currently has servers at major Internet nodes in USA, France, Ireland, United Kingdom, Singapore, Hong Kong and Japan.  The company stated that the server locations were optimized for the best speeds from any country/region to USA, Asia and Europe (where most websites are hosted).  They server locations were also selected for best physical security of the servers themselves.
Pricing
GoTrusted provides unlimited usage for $5.99 USD per month for an individual account.  They have yearly plans that give a month free ($65.89) and Small Business plans starting at 5-User accounts for $24.95/month (works out to $4.99 per user/month).
GoTrusted provides a 7-Day free trial with full use of the software with no caps or speed limitations.  Their cancelation policy is 'anytime' with no questions asked.  So just requesting a cancel will stop billing – there are no contracts or additional fees for different VPN types.
The $5.99 monthly fee includes usage of one mobile device and one computer connected simultaneously with the same account. You can also install GoTrusted and use on as many computers/devices as you like with the same account… just one at a time with the above limitation.
GoTrusted accepts major credit cards (American Express, Mastercard, Visa, Discover) and PayPal as methods to pay for the subscription.
VPN Speed
GoTrusted uses compression with their VPN network and software, so speeds are sometimes higher than a direct connection, especially in the same region.
How we tested:  Macbook 2012, GoTrusted Secure Tunnel v2252 (in the software Settings menu we had 'Compatibility Mode' off) – ISP in the Southeast USA with 25Mbps throughput.  We used www.speedtest.net
No VPN, to Washington DC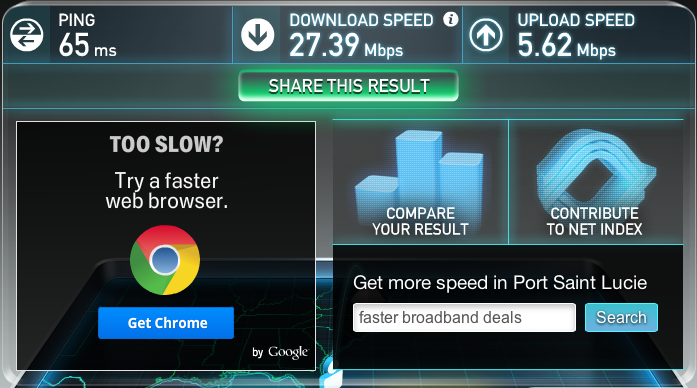 GoTrusted VPN Connected (NJ server auto-selected by software), testing to same Washington DC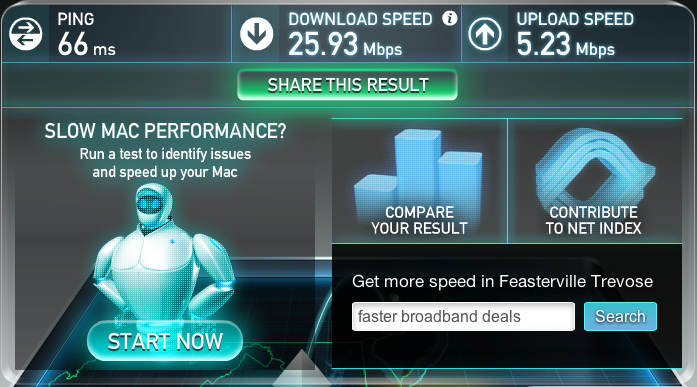 The UK region shows almost a 35% gain in download speed with only the Asia region showing a small slowdown over the direct connection to Asia, but still very respectable considering the test is being performed from the USA.
Overall GoTrusted's speed shows to be capable of providing excellent speed for a fast ISP connection in the same region.  The SSL compression being used was working very well for USA connections, improving the download over the base ISP speed.
GoTrusted VPN Software
There's nothing much to the exterior interface of the GoTrusted Secure Tunnel VPN software.  We're told by the company that a lot is going on behind the one (yes one) button that's used to operate the VPN.  The software automatically configures the VPN settings and choses the best/fastest server for the region that you selected in the Settings.  There's a handy little 'G' in the icon tray when the software is running to let you know if it's Disconnected, connecting, or connected.  Right-clicking the 'G' icon brings up the status display which will let you know your IP that you obtained from the GoTrusted network and will allow you to connect and disconnect.  When pressing the connect button, a few status messages appear letting you know the software is finding a server and authenticating to the VPN network.  It connects in about 10-20 seconds.
Selecting the Settings menu brings up a region selection drop-down menu, and shows your Email address that was entered during install (GoTrusted uses this as your account identifier during registration).
The region selector is where you can change where the VPN connects to (not where you're connecting from).
There's also a Manual Server IP field that allows you to enter a GoTrusted Server IP that you've used and want to continue using – so it makes the server a 'Static IP.'
There's a proxy IP/Port field for networks with web proxies on them (typically only office networks would have this) – you can enter that information here if needed.
Finally, there's a 'Compatibility Mode' setting that automatically is enabled/disabled by the software depending upon your local Internet connection – but you can manually force this setting.  It changes the SSL VPN type being used to allow connecting when VPN may be otherwise be blocked.
We found the software extremely simple and reliable to use with no strangeness observed when connecting or disconnecting the service.
Company Policies
GoTrusted indicated that they monitor overall network usage for quality of service but do not log individual session URLs browsed.  They also so not filter the Internet in any way, allowing any application (P2P included) to be used.  They have their Privacy Policy and Terms of Service prominent on the website.
Support is provided by email and a 24 hour response time is stated.  We found support to be very quick during business hours in the USA and less than the 24 hours stated during weekends.
Conclusion
We found GoTrusted to be a reliable and fast VPN provider for a good price.  If you are looking to for software with a lot of configuration options for setup, servers and protocol types, then you'll find this missing in the GoTrusted client.  But it otherwise gets the job done, and does it without much fanfare.  Overall, for only $5.99 month, the unlimited use and high speed makes it worth at least trying the free 7-Day trial.