Using internet by the iPad with VPN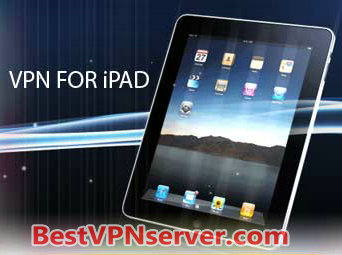 Now-a-days people are moving all the world due to their job and they are to get updates with all the things related to their work. So they need to use the portable device by which they can use the internet and do the jobs of their office. Among the portable device most of the people like to have an iPad as they can use it as a mini computer.
Using the internet by the iPad is very easy and the working people like to have it while they are outside the office. But there is a problem of using the iPad in the outside network is the security. But there is a tremendous solution of this. They are using the VPN to increase the security of their information when they are in the outside.
VPN:
It indicates Virtual Private Network. It helps you to be national throughout the world. It provides you an anonymous activity in the net and it will provide you security when you are in the outside of home or office.
Sometimes people do the work when they are outside from home using the PC by remote controlling. But it does not give them the real facility to do the job. In this case VPN plays a very important role.
How to use the VPN in iPad?
Mainly there are two ways the VPN can work in an iPad. The first one is using the VPN server in the office server. That means the VPN will work in the office server and it will give you the privacy.
The second system is you just need to install a VPN software in your iPad and then you can use it. After setting up the software in the iPad you can easily access the office server from the outside without any possibility of leaking the valuable information.
Set up of a VPN connection in iPad:
You can use different connection to set up VPN in your iPad like L2TP, PPTP, IPsec. Among these the L2TP is most used and easy to set up. Here are the processes of setting up this connection:
 First you need to go to your settings option
 Then you need to select general.
 Then go to the network option
 There you will find VPN and Wi-fi on the right top side.
 From there go to the VPN and add app configuration
 Then select L2TP and then click on the "off" option and it will turn on
 Then you will see connecting and after that your VPN will be on.