Visit Site
Price : $ 9.99/month
OpenVPN : Yes
IKEv2 : Yes
24 hour free trial
SaferVPN
Good: 24 hour free trial, NAT firewall, Chrome browser extension, No log policy
Bad: Can Not works on Netflix
With 700 plus servers across 30 countries, SaferVPN has been well-designed and has a professional offering that is very impressive to its users. Providing automatic connection whenever there is an insecure Wi-Fi is most appealing to the users, especially when they go out for a cup of coffee in unknown areas.
Customer support is provided 24 X 7, through live chat or through email, if there is any problem or queries to be sorted out. The Israel-based VPN, founded in 2013, is noted for its reliability and speed.
SaferVPN Servers Details
| | | |
| --- | --- | --- |
| Package | Discount | Price –  Monthly / Yearly |
|  1 Month |  0 |   $9.99 |
|  1 Year |  50% |  $59.95 – $4.99 |
|  2 Years |  65% |  $83.77 – $3.49 |
There are three monthly price schemes. You can connect to a single device at a time or connect to three connections simultaneously. The last one is for small businesses which can connect up to 10 machines for secure connections. An annual plan is also provided.

But the two year plan works out very cheap, while the one-month plan is more expensive than all other plans. A 24 hour sample trial is offered for free, as a trail sample without restrictions on server access or restrictions. Non-paying users are provided with 500MB/month.
Fast & Simple VPN Service
Regardless of your technical knowledge, SaferVPN offers a completely accessible, easy to use service for every user.

With just one click, our users can instantly connect to our servers across the world. Simple Location Switching: Once a user selects their desired location, they receive an alternate IP address, allowing them to browse the web as if they were in their country of choice.

Enjoy a flawless, easy VPN experience. Connect with just a single tap or click – you'll be up and running in seconds!
Unlimited Speed and Bandwidth:
ISPs will often restrict your download speed and slow down your Internet based on your data usage. Reduce throttling and enjoy unlimited location switching, bandwidth and speed – it's all unlimited with SaferVPN.

Unlike other VPN providers, we manage our extensive, global VPN server network in-house to deliver unparalleled speed, stability and security.

Browse as if you were anywhere in the world by connecting to one of our 700+ high-speed servers in over 32 locations worldwide via safervpn severs.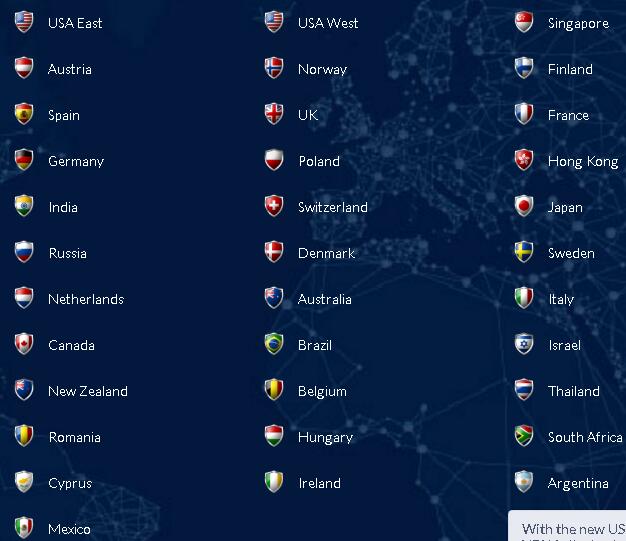 Benefit from advanced data security and complete Internet privacy. With our bank-level encrypted apps and anonymous IP addresses, you can protect your personal information, conceal your actual location, and prevent hackers, snoopers and website owners from tracking you.

Automatic Wi-Fi Security
Among the first in the industry, SaferVPN provides automatic Wi-Fi security. This unique, patented technology alerts users the moment they connect to an unsecured Wi-Fi network, keeping the user's information private and secure, automatically.
 Protect your valuable data and personal information over any unsecured public Wi-Fi hotspot automatically.
 Browse safely over any network.
 As soon as your device connects to a Wi-Fi hotspot, your personal data is protected from snoopers and hackers with highly secure, 256-bit encryption – without having to do a thing.
 Protects users even if their device is locked.
 Prevents harmful data leaks.
 SaferVPN Security
 Provides the highest level of service in accordance with the latest VPN standards.
 SaferVPN's apps uses the most advanced tunneling protocols that optimize encryption and performance. These include IKEv2, L2TP/IPSec, and PPTP. Although our service automatically selects the best protocol, you may also select the VPN protocol of your choice.
 SaferVPN utilizes the highest levels of encryption in the industry, including AES-256 Bit, which guarantees maximum security and protection.
 Enabling our Kill Switch feature, available on Mac and Android, protects your personal data even if your VPN connection drops – Their unique Diagnose Fix feature automatically solves technical issues before the VPN connection is disturbed.
It is your privacy that everyone is most concerned about, including SaferVPN. Your email address and some of your payment ID is held, but your card details and your entire bank details are not held.

Google Analytics is used along with cookies on website. Otherwise, no other details are held. Session data such as the connecting and disconnecting times are recorded.

The bandwidth used, the IP address of the allocated server, the incoming IP address are also recorded. These are just for information purposes. What you do on the internet is not of monitored.
Terms
The acceptable use policy has to be acknowledged by the user, as the service is only for personal use and not for commercial use. It does not support Torrent on any server. The obscenity clause that has to be honored states that an indecent, obscene or pornographic content, should not be posted, transmitted or uploaded.
Their privacy policy ensures that safervpn do not keep logs, store details, or monitor of our users data when using thrie VPN service.
 Support anonymous Bitcoin payments.
SaferVPN supports PPTP, L2TP, OpenVPN and IKEv2. Each protocol is given explanations on when to use and when not to use it, on a separate web page. You can select any place in the world to connect to, as there are numerous countries offered on the list of SaferVPN. It works for the browser as well as for other apps that use the internet, such as iTunes.Getting connected to the US and the Netherlands is very quick.  The DNS feature and browser extensions are some of the remarkable features of SaferVPN.

Getting Started: To get started all you have to do is download the website. Once you sign up to SaferVPN, you will have to provide your email address. You get a link immediately, to verify your address. The Windows client is immediately pointed out and it gets installed within seconds. The entire process is easy and hassle-free, which is much easier than doing it elsewhere. All your connectivity is passed through the program, through a secure tunnel, connecting to the internet.

Device Support: Almost all of the operating systems are supported from Windows XP, Windows 8 to Mac OS X, including Chromebook and Ubuntu. But Windows Vista is not supported. All devices are supported too. The iPad, Android devices, iPhone and WindowsPhones (8.1) are also supported along with Tomato Routers and DD-WRT. There are separate apps that all iOS and Android users can enjoy and download from their official stores.
 Automatic Wi-Fi security
 24/7 customer support
 24 hour free trial
 30 days money-back guarantee
 400+ servers in ove -use apps for Windows, Mac, Android, and Routers
 Free Chrome browser extension – Bank-level encryption – NAT firewall on servers
  Ability to favorite your most frequently used server locations
  5 simultaneous connections per account
  Multiple protocols for more flexibility: IKEv2, OpenVPN, L2TP/IPsec, and PPTP
  No log policy
 Accepts major credit cards, Paypal, and Bitcoin
The front page has a professional touch with good features provided for guidance. Any website can be accesses anywhere, with 100% anonymity. For social networks and streaming entertainment, SaferVPN is great. With virtual proxy network (VPN), services are provided for privacy while browsing and your personal data is protected while you are online.

The navigation is easy while the desktop clients are very helpful and well-designed, along with good apps. It is easy to install any application or client, as it is very simple and the guidelines provided for installation are very explicit. There are direct links to connect to servers. There are not many sort options available as only the alphabetic arrangement is provided.
Windows Client Tested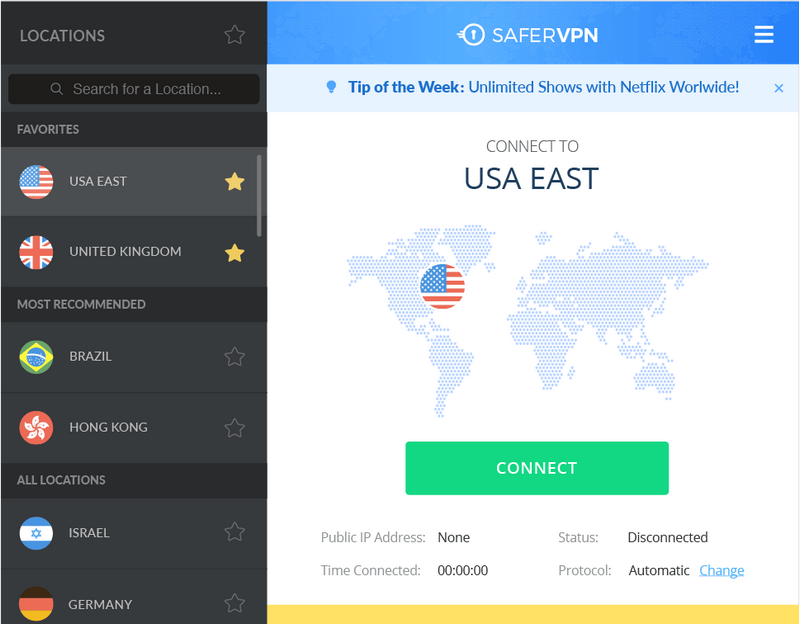 This has been provided very effectively. It is most effective for novices as well as for professional users. For easy guidance, you have to' Select' the location along with 'Click' to connect. A Favorite system, Quick search are also provided for quick results. Status Details for the IP address, protocol selection also have the automatic connections and connected time, whenever there is an insecure network connection.

The VPN kill switch can also be activated. It was found, however, that only a country could be selected and not the specific server. The interface is very user-friendly. You can choose from the available server locations from the menu, as well as getting the status of the VPN too. This makes it easy to activate the VPN shield, without having to close the page.
SaferVPN Pros
SaferVPN provides clients for almost all platforms. It also provides speed that is above average. They are provided with free 24-hour full service trial. The speed is good with quality clients.

The ease of use is also very appealing. Customer support is provided, which is useful through live chat. SaferVPN is fast and simple. SaferVPN works with almost all connected app. It can connect from multiple countries. The VPN service is fast and simple. The stable VPN makes browsing easier and more effective.
SaferVPN Cons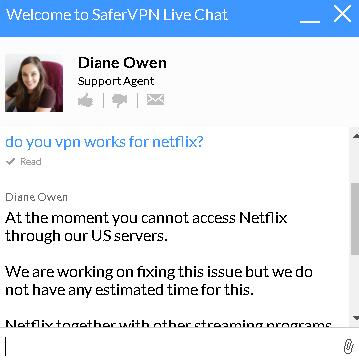 P2P support is not provided.

[updated on Oct 8, 2017]

Now support torrenting from the Netherlands servers.

There is no detailed session logging. There is a very slight delay, while connecting with other servers. When Connect is clicked, UAC prompt is on display by default, which is not required. The information collected from clients is a bit more than what other services collect. The site response is slightly lower. A fail-safe switch is not provided with any of its servers.

Wrap-Up

SaferVPN can be trusted for speed and reliability. There is no actual service disruption found. But certain features, though small are a bit tiring for use.
SaferVPN

,