NAT Firewall for the virtual private network helps to browse the internet securely
A VPN also known as virtual private network, enables a user to browse internet privately and securely. It is the very good idea to invest in a Virtual private network for a different types of reasons.A NAT (Network Address Translation) firewall is a packet filter that helps prevent your computer or mobile device from being exploited by malicious hackers and botnets.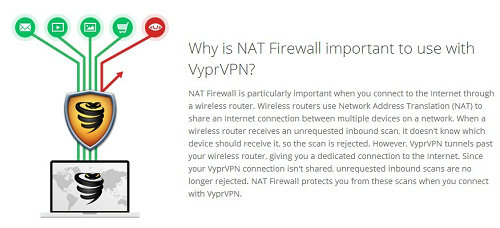 NAT for the Virtual Private Network
Network address translation (NAT) takes the private internet protocol (IP) addresses and translates them into public IP addresses. This helps to conserve the valuable public addresses while at same time allows hosts in the network to access remote hosts and services across Internet or any public network.
If you use private IP addresses, they can coincide with the same type of incoming IP addresses. As an example, you may want to communicate with other network but both networks use same IP addresses, causing the addresses to clash and all packets to be dropped. Applying NAT Firewall for VPN to your outbound addresses might appear to be the answer to this problem. Moreover, if the traffic of the data are protected by a VPN, formal NAT will not work as it changes the IP addresses in the security associations (SAs) which VPN requires to function.
To avoid this type of problem, VPN provides the own version of network address translation called Virtual private network NAT. NAT Firewall for VPN perform the address translation before SA validation by assigning an address to the connection when connection starts. Address remains attached with the connection till the connection is deleted.
Top VPN Service Support NAT Firewall
 
IPVanish
Cost $10.00/month || 7 Days Money Back
 
VyprVPN
Cost $9.95/month || 7 Days Money Back
While some VPN providers might charge extra for this feature,some of VPN service providers like IPVanish understands the importance of guarding against identity theft, malware and spamming and includes the NAT firewall at no additional charge.
VPN NAT for preventing the conflicts of IP address
NAT Firewall for VPN allows you to avoid possible IP address conflicts when configuring a VPN connection between systems or network with similar addressing schemes. Typical scenario is one where two companies want to create VPN connections by using one of the assigned private IP address. When one of the server is the connection initiator, it can translate the local address with the other address. When the server is the connection responder, it can translate the VPN partner's remote addresses that are compatible with the local addressing scheme. Configure this type of NAT Firewall for VPN only for dynamic connection.
VPN NAT for hiding local address
This type of NAT Firewall for VPN is used mainly to hide the real IP address of the local computer by translating the address to address which make publicly available. When configuring Virtual private network NAT, it can specify that each publicly IP address will be translated to one of hidden addresses. Thus it also allows you to balance the load of traffic for the individual address across multiple different addresses. NAT Firewall for VPN for local address requires that the server act as responder for the connection.