CactusVPN review
CactusVPN is a company founded in the Republic of Moldova, with servers in the US, UK and Netherlands. It provides a quality and reliable service, hiding the IP address and encrypting all the incoming and outgoing data while we use Internet. It works on Windows, Mac OS, Linux, Android, iPad, iPod, iPhone, DD-WRT routers, Xbox, PS3, Apple TV, Boxee Box and I think other, not so popular devices. That fact brought us to the idea to review CactusVPN in order to create "a picture" of what is Cactus VPN and how good is for its users, so others could know too.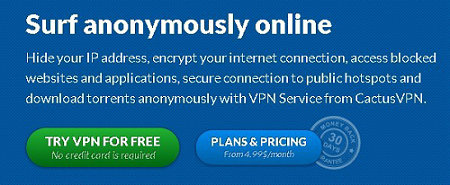 Being accessible on so many operating systems and devices, CactusVPN secures our Internet connection in a easy and comfortable way either we're traveling or being home. User's internet connection, online browsing and online transfers will be encrypted in seconds by following easy steps of CactusVPN set up. Once connected to CactusVPN the online identity is masked behind one of its anonymous IP addresses. The anonymity is guaranteed.
What does CactusVPN have to offer?
OpenVPN, L2TP/IPSec, PPTP and SSTP VPN protocols, also Proxy is supported
Smart DNS service is offered as a bonus to the biggest package ($6.99/month) or as a standalone service ($4.99/month).
30 day money back guarantee
24 hours free trial for VPN and 7 days for Smart DNS
Unlimited and unmetered bandwidth
P2P and Torrents allowed on NL server
As said earlier, supported on PC, MAC, iPhone, iPod, iPad, Boxee Box, Xbox, PS3, DD-WRT Routers
Working on Windows, Mac OS, iOS, Android, Linux, FreeBSD
Pay with PayPal and Credit/Debit card with PayPro. Also with Paypro are available Alipay, WebMoney, Yandex.Money, Boleto Bancario, Qiwi payment systems.
Customer support is quick and professional and is offered by Live Chat and Email.
P2P/BitTorrent activity
Despite the fact that these features are banned on the US and UK servers, CactusVPN allows torrents downloading to its Netherlands servers. So the users can fully benefit from it.
Smart DNS Service
CactusVPN also offer the Smart DNS service which allows it's users to connect to the websites that don't show their content to other than US or UK with providers original speed. The service is available on all popular platforms (Windows, Mac, Apple TV, iOS, Xbox, PS3, Wii, Roku etc.)
Packages and Pricing
Users have the possibility to chose from 4 packages: US VPN package, UK VPN package, P2p/BitTorrent VPN (NL VPN) package and US, UK, NL VPN package. All the packages come with SSTP, L2TPSec, OpenVPN, PPTP protocols and Proxy. Auto Proxy is offered as a bonus, so the users can access streaming audio and video sites at high speed without encryption.
In order to enable a VPN connection on multiple devices or if the user prefer to dower a connection to someone else, CactusVPN offers a 50% discount for the second CactusVPN package for the above mentioned purposes.

The US VPN, UK VPN and P2P/BitTorrent VPN monthly packages cost $4.99 each while the US, UK, NL VPN combination package costs $6.99 per month.
CactusVPN users can benefit from discounts for different billing cycles:
For the US VPN, UK VPN and P2P/BitTorrent VPN packages:
$12.99 for 3 months, with a saving of $1.98 $22.99 for 6 months, with a saving of $6.95 $38.99 for 12 months, with a saving of $20.89 For the US, UK, NL VPN package:
$17.99 for 3 months, with a saving of $2.98 $31.99 for 6 months, with a saving of $9.95 $54.99 for 12 months, with a saving of $28.89
Smart DNS monthly package cost is $4.99.
Smart DNS + US, UK, NL VPN VPN package is $6.99 per month.
Money back guarantee
Another good think is that CactusVPN has a "30 day money back guarantee" policy, so users can have enough time to try the service.
Easy to use software
As we are talking about a product that brings excellent and user friendly software for Windows and Mac, it has indeed been designed in a simple and easy to use way. Because it is something particular to each user, we suggest you to try it and figure out how simple it works so you could understand exactly what we mean by saying "it has indeed been designed in a simple and easy to use way". In order to take your security at a a maximum level they even have an app killer that will close any software you choes if VPN connection drops. So you should feel safe with there services.
Customer support
Besides the fact that the users can anytime access a detailed FAQ guide, they can see "How-to" questions and answers of common problems reported by real users which are listed in the Knowledge Base. CactusVPN team provides helpful tutorials for proprietary software and manual setup of VPN and Proxy, so users can see in details how to set up things faster and at the same time correctly. The Email is another way for user to get a quick support from Customer Service Representative. The support team usually responds on ASAP bases. There is no need to login to the client area to open the ticket regarding an issue or question, it's enough to send an email to [email protected] with the proper request. The most used, is Live Chat support – a way to get a maximum attention and help in minimum time.
BestVPNServer Recommendation
We recommend CactusVPN as the best solution for this price. They don't have many servers but all of them works perfectly and has a good speed. So if you don't need hundreds of servers (most of you really don't need it) CactusVPN is the best for you.