WHAT IS VPN? – Benefits of VPN & Types of Virtual Private Network
Virtual private network (VPN) is a secure encrypted connection that allows computers to communicate within a public network such as the Internet.

That helps to keep data private by encrypting it and creating a secure 'tunnel' between remote users and the VPN server.Here Let me give you a brief introduction about VPN.
What is VPN?
VPN konwn as Virtual private network is a process by which you can visit any third party web sites which is banned in your area or in your work place. As this is risky so VPN provides you proper security by which your identity will be kept safe.
Technically it means Virtual Private Network. Using this you can send and receive data from a public network but it seems as private network. By setting up a point to point connection with both network this can be set up for use.
Types of VPN:
Earlier the VPN works through dial up modems or leased lines. But they are not really VPN as we are discussing here. VPN can be remote controlled or connected through the line to line. Some people use this to access the office site from outdoor or to minimize the middle network problems. So these can be classified by-The protocol and tunnels termination point. In addition to these it is also considered whether the VPN is worked in site to site connection or remote connection. Lastly it is classified on the basis of the security.
Remote access VPN:
This is made by an individual computer user from a distant location who makes a connection to the private network. The user can access to the network because the VPN server provides the resources. Here either the user authenticates to the VPN or either the server authenticates to the client.
Site to site VPN:
This is done by router connection. Here a private organization makes a router connection with the network of the same organization or they make a connection to the other organization. This system is called Wide Area Network or WAN.
Benefits of VPN Server:
people use VPN to make the communication easy and safe. Through VPN people can access to any blocked or unauthorized address from a distant place.
Let's have a look of some features of VPN:
By connecting through VPN you can keep your information safe and secured. So you can keep your data free from hackers.
One of the most important features is that you can get easy access to any web site that is banned in your area from the remote area

While working in a group and if it is confidential then you can share all your file through using VPN as this is safe .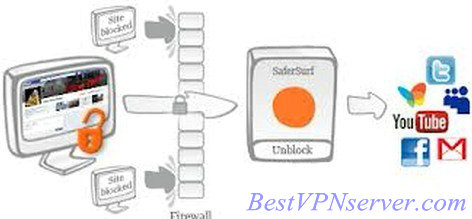 You can visit any webs sites by hiding your ip address.
It helps you to break the restriction of the area based web sites. For example if you need to visit any website hosting from USA and which is banned in your area then using VPN you can easily get an IP address of USA and visit the site.
It also helps you to resist the threats of the spams and phishings.
So as a whole it is indeed a great asset to the people of the remote area and also for the people who want to work safely in the online to use VPN and get his work done.