Visit Site
Price : $9.95 /month
OpenVPN : Yes
SSTP VPN : No
Dedicated IP available
VPN Secure
Good: Proxy feature, Dedicated IP, SSH&SOCKS5 proxy, Free VPN service
Bad: Average speed
User Score
10.0
(1 votes)
VPN Secure is a VPN service provider founded in 2010 that offers HTTP Proxy,PPTP/L2TP,SSH SOCKS5 & OpenVPN protocols. FREE Proxy is available, that's great feature,With this feature you can use a chain of 2 anonymity IPs at same time.You could be running OpenVPN with a IP and configure your Internet browser (HTTP Proxy,) to use the other IP.
VPN secure Servers Details
| | | | |
| --- | --- | --- | --- |
|  Plans | Price / month | Price /6 months | Speed |
| HTTP Proxy |  $3.95 |  $47.4 | Slow |
| PPTP/L2TP |  $7.95 |  $39.95 | Fast |
| SSH SOCKS5 |  $9.95 |  $49.95 | Slowest |
| OpenVPN |  $9.95 | $49.95 | Fastest |
| OpenVPN & PPTP | $13.95 | $59.95 | Best of Both |
You can get 2-day paid trial package that are available only $2. VPNSecure provides unlimited VPN access at a very affordable price.All accounts come with FREE Proxy.

List of Countries of VPN server locations in alphabetical order.

Australia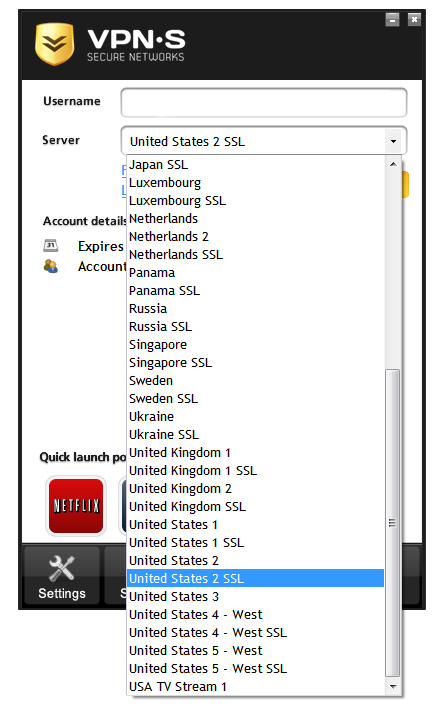 Austria
Canada

Chile
Czech
Egypt
Finland
France
Germany

HongKong

Iceland
Ireland

Japan
Luxembourg
Netherlands
Panama
Russia
Singapore

Spain

Sweden

Switzerland
UK
Ukraine
USA

VPN Secure supports HTTP Proxy,PPTP/L2TP,SSH SOCKS5 & OpenVPN protocols.

HTTP Proxy,proxy feature can hides your real IP but it will not encrypt your traffic like OpenVPN does, the proxy service has its uses but privacy is not one of them, it is to be used for anonymity.

OpenVPN is more secure and great for connecting from PC, Mac or Linux.With Easy to configure VPNSecure.me client to have a secured and encrypted internet connection.That extremely easy to use.

SSH SOCKS5 also easier to setup but less secure than OpenVPN.

PPTP extends compatibility to mobile devices including iPhone, iPad, iPod Touch and Android phones / tablets.Though PPTP is faster than L2TP but considering the fact that the latter assures better security, the decision to use L2TP would indeed be an advisable one.
| | |
| --- | --- |
| Bandwidth Limitations: |  Unlimited(except Australia limit of 50GB of in+out traffic) |
| Types of IP |  Shared IP / Dedicated IP (available) |
| Encryption Strength: |  2048-bit RSA and 128-bit Blowfish |
|  p2p Allowed: |   Yes ( except Australia) |
| Other features |   DD-WRT routers, FREE Proxy |
1.Try VPNSecure.ME service for two days for only $2
2.VPNSecure provides unlimited VPN access at a very affordable price.

3.All accounts come with FREE Proxy.
4.SSH&SOCKS5 proxy and Dedicated IP available
VPN Secure

,