SpotFlux Free – An Excellent VPN Service
Spotflux (Free VPN) is an easy to use VPN service which never interrupts web surfing. It is available for free, though it supports ads which are not intrusive. When compared to other VPN services, Spotflux stays private, saves bandwidth and keeps you protected from malware attacks.Before we have already write a post to introduce the [Spotflux – A Proxy Server Used for Data Conversion].Now i will tell you how to use it.
How to get it started?
To get started with the program, all you have to do is install Spotflux, and everything else will be performed automatically.
>>>1.  Enter the Spotflux website, download the installer file and start the installation process.
>>>2. After installation, Spotflux automatically launches and gets connected to the Spotflux servers.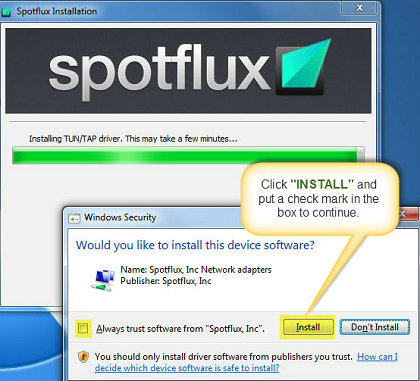 >>>3.  A web browser will be launched with a message ' Welcome to Spotflux'
>>>4.  You are now connected to Spotflux.
>>>5.  You will find ads displayed on the screen, but you can easily close it and continue with surfing.
How does it help?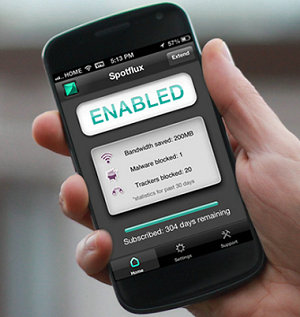 The interface of Spotflux (Free VPN) is comparatively minimal. The main window shows 'enable' when you are not connected to the server, and 'disable' once you are connected. Once the program is connected, the window minimizes automatically to the system tray and you can open it whenever you want by just clicking on the icon. The main window also has a small field which displays the status of the program, including connection to the server and obtaining IP address. The icon turns green when connected and remains as an empty box when disabled.
Unlike other VPN services, Spotflux has a feature where it automatically blocks all dangerous sites. The program also provides a privacy test to check the status of online tracking. The tracking networks are usually used by advertisers, employers and digital media companies to follow your online activities around the web. This test ensures whether you are protected from these tracking networks. However, the free version of Spotflux does not block the trackers, but this can be enabled by upgrading your account to the premium version of the program.
Pros and Cons of Spotflux
Like every other program and software, Spotflux also has pros and cons. Some of them are listed below.
Pros
>>>  It is available for free, and also offers a 10-day trial
>>>  Installation requires no manual configuration
>>>  No bandwidth limits
>>>  Maximizes your data plan – Mobile data compression helps you save on bandwidth bills
>>>  Blocks unsafe sites – Block tracking cookies and other internet spyware! Hide your ip address from websites, data collectors, and hackers.
>>>  Multi-platform Support – across iOS, Android 4.0+, Mac, and Windows
Cons
>>>  Servers cannot be selected manually
>>>  Does not block cookies, as there are no cookie blockers available
>>>  No tracker blocking available
>>>  Offers access only to the U.S. based servers
SpotFlux (Free VPN) will be an excellent option for people who are not much into technology, as the automatic operation of the program makes them use it easily. Anyhow, this service is new and growing and we can expect the developers to extend its operation to other parts of the world too, very soon.