New TorGuard Android App & VPN Servers Update 2014
As one of the VPN industry's leading providers, TorGuard has remained committed to improving our software and expanding the VPN network worldwide.  This month TorGuard  have deployed more than fifty new servers across seven countries while also updating our widely used Android VPN app.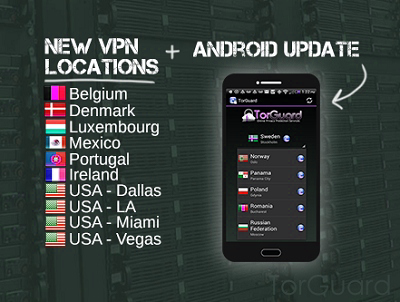 TorGuard's popular Android VPN app has recently been updated on Google Play! Our development team has been working hard at improving the app's functionality and updating the server selection menu. After a brief beta testing phase these new features are now available to download on any android smartphone. Recent updates include:
Various Bug Fixes
New Server Menu UI
Individual City Names Added
Easy UDP/TCP Switch Option
Improved Connection Status Page
New TorGuard VPN server connection
s are now LIVE in: Belgium, Denmark, Luxembourg, Mexico, Portugal, Ireland, USA – Dallas, Miami, LA, and Vegas. Clients should restart the TorGuard OpenVPN software to automatically download all recently added endpoints and make use of these new servers. A full range of VPN connection options are also available in these locations including OpenVPN, PPTP, L2TP and SSTP. TorGuard now offers 350+ IPs in 34+ countries and our network continues to grow rapidly.
Global VPN Service in 30+ Countries.
Regardless of what country you are from, encryption remains the best route to online safety. A private VPN is the surest tool to provide that secure encryption. TorGuard provides quality privacy services in over 30 countries world wide. Their VPN service will help you to keep your search habits and personal information secret, protect your IP address so websites can't associate them with your browsing habits, hide your activity on public Wi-Fi hotspots to keep crooks out, bypass censorship to access blocked websites, and safeguard your right to online privacy.

If you want to keep unscrupulous companies and people from seeing and intercepting your online activity and sensitive personal information, you need private VPN encryption.